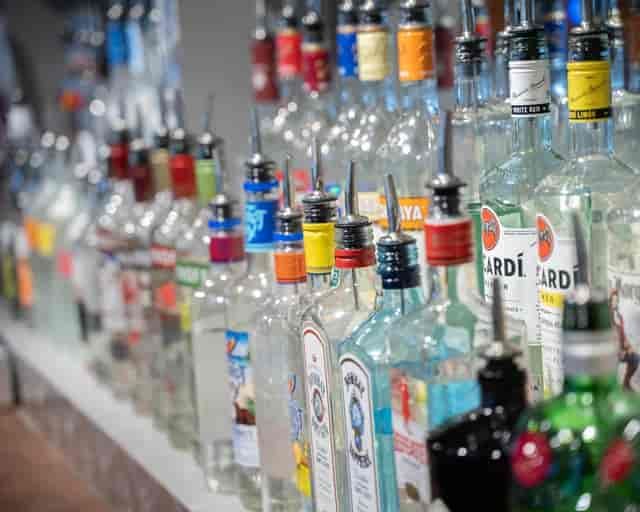 Drinks
Become a VIP
Receive updates on special events, new menu items, menu reviews, and more!
Drinks
BEVERAGE PROGRAM
Bricco Restaurants are known for their extensive bar menus composed most notably of our classic 12 oz martinis.
Longtime favorites include the Pink Elephant, Espresso and Patronarita, available at all locations.
Additionally, personalized and unique twists on seasonal cocktails crafted by your favorite bartender can be found at your favorite Bricco.
Our beverage program boasts hundreds of bottles of wines from all over the world, in a wide range of price points, many of which are available by the glass.
Retail Wine pricing is offered from open to close at all of our venues on various days, depending on location.
Carryout bottles of wine are sold at State Minimum prices 7 days a week.
We invite you to try something new, or find your go to, when exploring our broad selection of domestic, imported and craft beers.
Ciders and meads, coupled with our ever changing seasonal and limited release brews, are sure to inspire.
RED WINE by the Glass
Cabernet: Coastal Vines 5 
Cabernet: Trim 8
Red Blend: Bricco Red 6
Malbec: Enrique Foster 7 
Merlot: Coastal Vines 5 
Pinot Noir: Angeline 7 
White Zinfandel: Coastal Vines 5
WHITE WINE by the Glass
House Chardonnay: Bricco 6 
Chardonnay: Lighthorse 7.5 
Pinot Grigio: Zonin 7
Pinot Grigio: Coastal Vines 5 
Sauvignon Blanc: La Petite Perriere 6 
Reisling: Piesporter 5.5
RED BY THE BOTTLE
Cabernet:Burgess Cellars 50
Cabernet: Stag's Leap Artemis 70
Cabernet: Liberty School 25
Cabernet Blend: Bricco Red 15
Cabernet Blend: Duckhorn Decoy 34
Cabernet Blend:Guenoc Claret 25
Cabernet Blend:Franciscan Magnificat 65
Italian Red:Aia Vecchia Lagone 26
Italian Red: Antinori Toscana 35
Italian RedChianti Cetamura 17
Italian Red: Sangiovese, Monte Anntico 25
Malbec: Catena 36
Pinot Noir: Castle Rock 24
Pinot Noir: Cloudline 35
Pinot Noir: Williamette Valley Vineyard 41
Merlot: Duckhorn 70
Merlot: Estancia 24
Merlot: Flora Springs 38
Merlot: Oxford Landing 15
Red Blend: Matchbook Tinto Rey 25
Shiraz: Jim Barry 32
Zinfandel: Bogle 24
Zinfandel: Four Vines Old Vines 20
Zinfandel: Frog's Leap 45
Zinfandel: Klinker Brick 28
WHITE BY THE BOTTLE
Chardonnay: Bricco 15
Chardonnay:Bogle 20
Chardonnay: Estancia 22
Chardonnay: Franciscan 30
Chardonnay: CakeBread 60
Pinot Blanc: Four Graces 20
Pinot Grigo: Estancia 20
Pinot Grigo: Lagaria 20
Riesling: Hogue 18
Sauvgnion Blanc: Gisen 20
Sauvgnion Blanc: Conundrum 34
White Zinfandel: Buehler 15
SPARKLING BY THE BOTTLE
Brut: Roederer Estate 36
Brut: Moet & Chandon 70
Brut: Veuve Clicquot 75
BOTTLED BEER SELECTION
Amber Ale, Great Lakes, Elliot Ness 3.5
Dortmunder Gold, Great Lakes 3.5
Fruit Ale, Fat Head's Bumble Berry 3.5
IPA, Fat Head's Head Hunter 4.25
Pale Ale, Great Lakes, Burning River 3.5
Porter, Great Lakes, Edumund Fitzgerald 3.75
Rose Ale, Rinegeseist Bubbles 4
Cider, Angry Orchard 3.5 (GF)
Cider, Downy's Pumpkin 4.5
Cider, Downy's Winter Ale 4.5
Golden Ale, Duvel 5.75
Hard Seltzer, White Claw Lime, Mango, Tangerine or Watermelon 5 (GF)
IPA, Stone 3.75
IPA, Dogfish Head 90 Minute 5
IPA, Sierra Nevada 3.5
Lager, Peroni 3.5
Lager, Sam Adams 3.5
Lager, Stella Artois 3.75
Lager, Bud Light 2.75
Lager, Budweiser 2.75
Lager, Miller Light 2.75
Lager, Corona 3.25
Lager, Heineken 3.5
Lager, Labatt Blue 3
Lager, Michelob Ultra 2.75
Lager, Yuengling 2.75
Pale Ale, Dale's 3.5
Red Ale, Conway's Ale 3.5
Pale Lager, Amstel Lite 3.5
Stout, Guinness 4
Stout, Left Hand Milk Stout 4.5
Tripel, Victory Golden Monkey 4
Wheat, Blue Moon 3.5
Wheat, Goose Island 312 3.5
Wheat, Weihenstephaner 5
Non Alcoholic, O'Douls 2.75